The 12th Research Forum Cryogenic Research Center
About Annual Research Meeting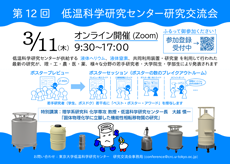 We are pleased to announce that the 12th Research Forum Cryogenic Research Center will take place online, on March 11th, 2021. This is an interdisciplinary research meeting for young researchers such as graduate students and postdoctoral fellows. This year, only poster session is given online because of the global concerns over the COVID-19 outbreak. The presentation should be covering the latest research which use the liquid cryogens and/or joint-use equipments/laboratories.
We expect many young researcher will present their interesting results.
Date and Venue
■ Date:
 Mar. 11. 2021 (Thu.)
 9:30 - 17:00 (tentative)
 Special lecture
 13:30 - 14:20
■ Venue:
 Zoom meeting
You can take part in from here
(30 min. bfore meeting. Only University zoom account is acceptable)
Special lecture
Shin-ichi Ohkoshi
Professor, Depertment of Chemistry, School of Science / Director of Cryogenic Research Center
Application for Presentation
Please apply with the following information
UTokyo account ID, Name, E-Mail address, Affiliation(s) (laboratory), Position, Title
Submission Deadline: Feb. 19. (Fri.), 2021
Any presentation of various research fields will be accepted to our meeting, if it contains the results that were obtained by using cryogen, Joint-Use Laboratories, or Joint-Use Equipment. In the presentation, the relationships between your research and Cryogenic Research Center should be mentioned.
After the short presentation (2 min.) by every presenters, one can enter the breakout session of each presenter.
Application for Presentation
Submission of preview slide and abstract
This year, not only abstract but also preview slide should be submitted. The template of preview slide is available here:(
MS Power Point
)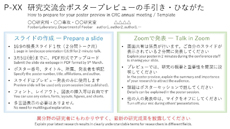 The template of abstract is available here:(
MS Word
)
Please upload your preview slide and abstract in PDF format from the upload page below.
Upload page
Submission Deadline: Mar. 5. (Fri.), 2021
Awards
The
"Best Poster Award"
is conferred for young researcher who made the best presentation.
Contact
 Secretariat, Cryogenic Research Center
 e-mail: conference[-at-]crc.u-tokyo.ac.jp